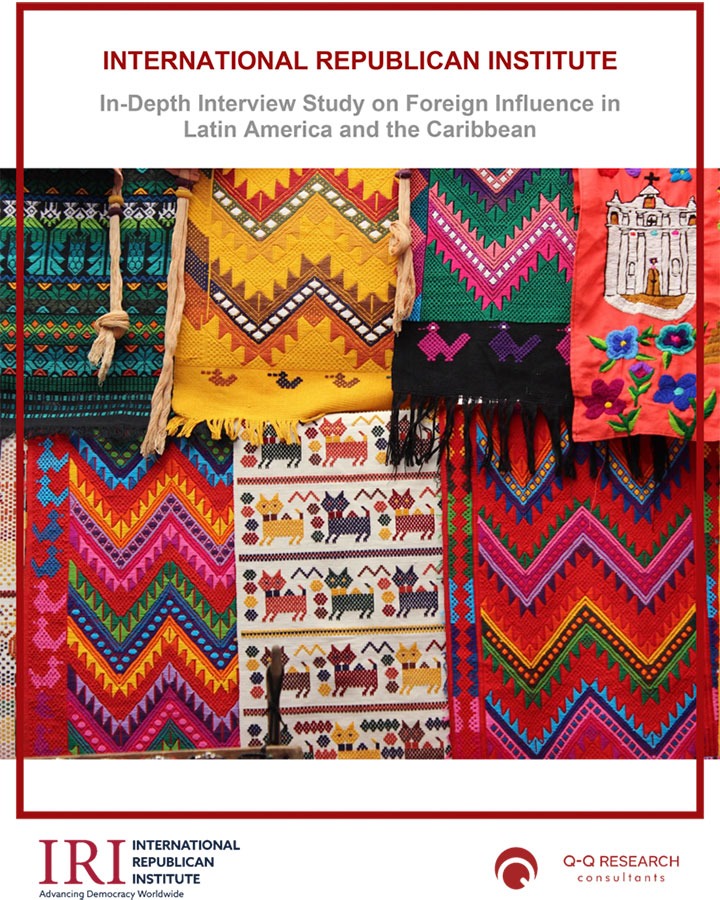 International Republican Institute: In-Depth Interview Study of Foreign Influence in Latin America and the Caribbean
Q-Q Research Consultants conducted an in-depth interview study to contextualize data from a poll carried out by the International Republican Institute's Center for Insights in Survey Research on foreign influence. Applying our expertise in cross-cultural sensitivity, we conducted and analyzed data from a total of 25 interviews with experts (including representatives from government agencies, politicians, civil society organizations, researchers, journalists, and consumer protection groups) from five countries in Latin America and the Caribbean: Argentina, El Salvador, Dominican Republic, Guyana, and Panama.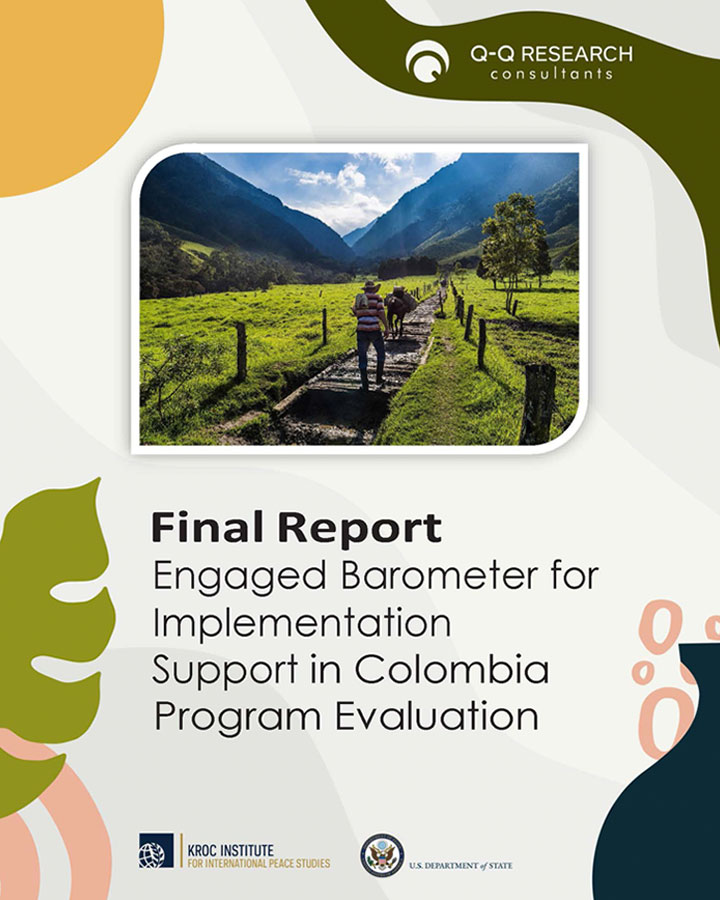 Kroc Institute for International Peace Studies and the U.S. Department of State, Bureau of Conflict and Stabilization Operations: Evaluation of the Barometer Initiative to Monitor and Verify Implementation of the Colombian Peace Accord
The project is an excellent example of Q-Q Research Consultant's ability to successfully secure information of a sensitive nature from government officials, international organizations, civil society, and the general public, and use it to inform high-level U.S. and Colombian officials on the status of a significant issue. Our team conducted an evaluation of the Kroc Institute for International Peace Studies' Barometer Initiative to provide technical assistance and monitor and verify the implementation of the Colombian Peace Agreement. The evaluation was rooted in mixed methodology, integrating both quantitative (e.g., survey data) and qualitative (e.g., interviews, focus groups, country-context analyses) data. We facilitated four focus groups and 17 in-depth interviews and disseminated a survey among representatives from Government of Colombia agencies, civil society organizations, international agencies, and academic institutions. The findings and recommendations strove to inform program managers in the Kroc Institute, U.S. Embassy in Colombia, and the Bureau of Conflict and Stabilization Operations in Washington, D.C.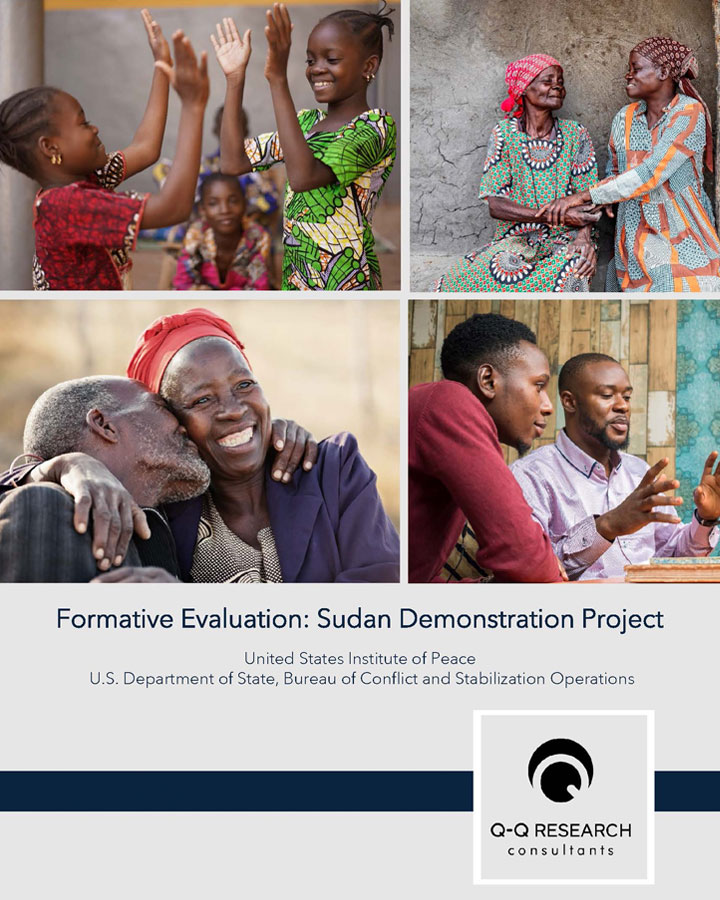 United States Institute of Peace and the U.S. Department of State, Bureau of Conflict and Stabilization Operations: Sudan Demonstration Project
Q-Q Research Consultants is currently conducting a formative evaluation of the Sudan Demonstration project (a pilot approach constituted by the U.S. Government) that aims to support Sudan's political transition by addressing the underlying drivers of fragility, conflict, and extremism in Sudan to sustain a peaceful political transition and achieve future political milestones. Through this evaluation, our team is gauging the relevance, coherence, and effectiveness of the Demonstration Project and identifying critical lessons to inform revision(s) to project strategies and future implementation in other fragile states globally. In addition to an extensive desk review and secondary source analysis, our team is conducting virtual and in-person interviews and an online survey with key stakeholders in Sudan and Washington D.C. As part of our commitment to engaging in a Culturally Responsive and Equitable Evaluation, our team includes local partners with extensive experience conducting research and evaluations in peacebuilding and international development.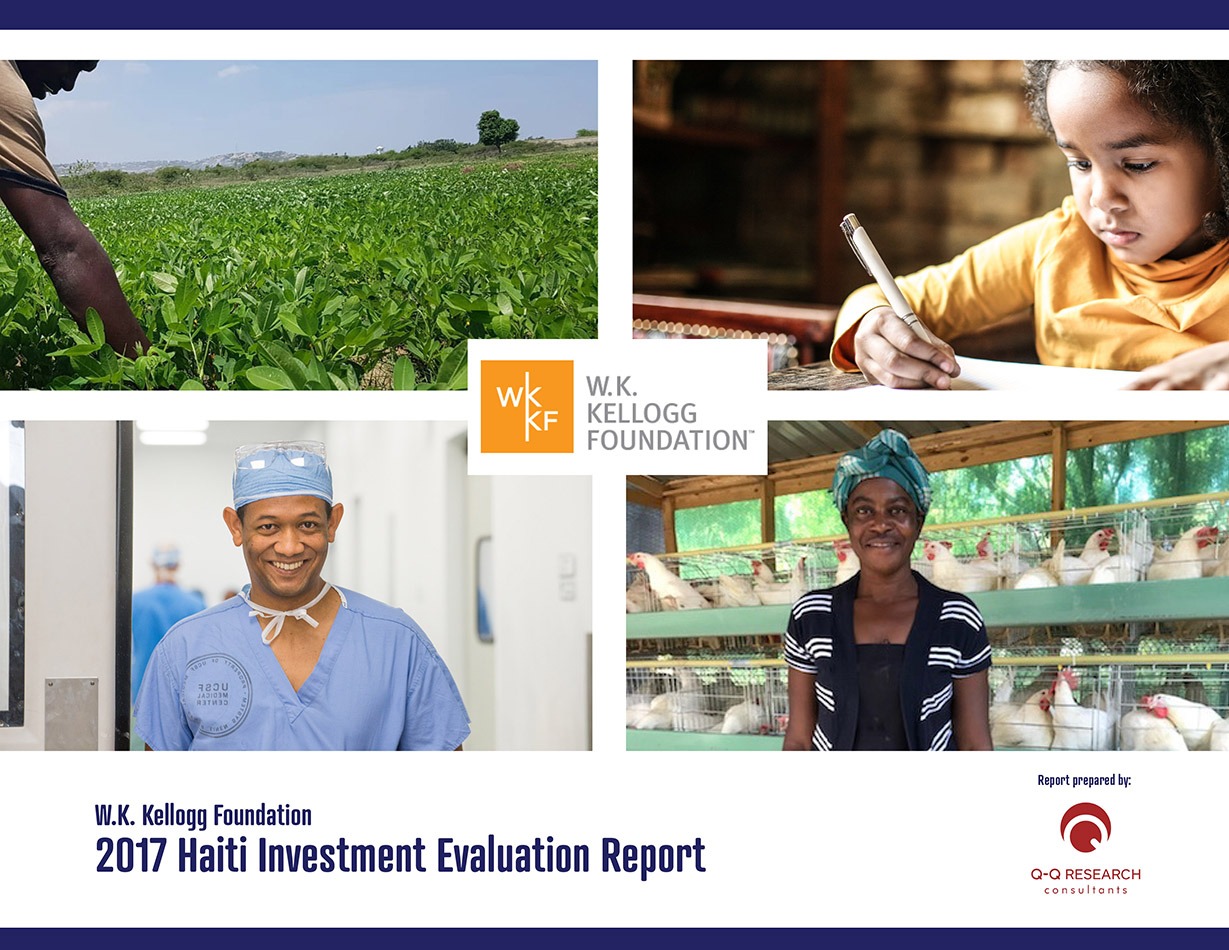 William K. Kellogg Foundation
Q-Q Research currently serves as the Lead Evaluator for W.K. Kellogg Foundation investments in Haiti. In this capacity, Q-Q Research is responsible for data collection in three domains: Education, Health, and Financial Security. The most recent data collection activities included a data collection operation in Cavaillon and Mirebalais, Haiti. A team of surveyors administered a household survey in both communes. Data was collected in the area of health, education, finances, and housing. This database also includes aerial and satellite images taken at different times and with various resolutions, topographic maps, and thematic maps.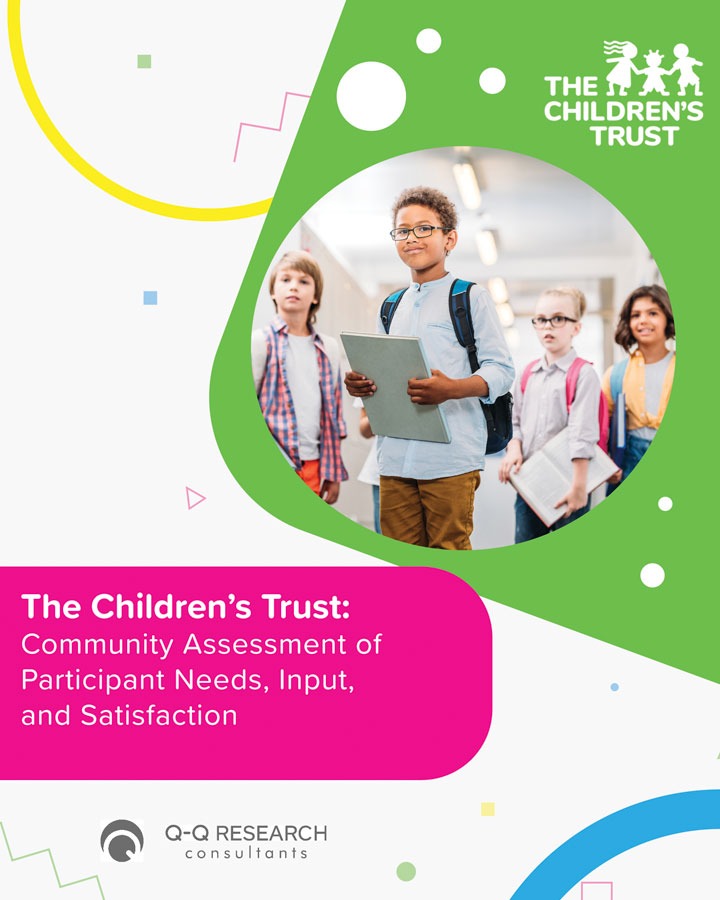 The Children's Trust (Miami-Dade County): Community Assessment of Participant Needs, Input, and Satisfaction
The Children's Trust (TCT) of Miami-Dade County partnered with Q-Q Research to conduct research and evaluation services to inform program participant needs, input, and satisfaction with Trust-funded programming across three areas: (1) afterschool programs and summer camps, (2) parent education and support programs, and (3) school-based health services. The objectives of this research are to (1) assess the needs and interests of potential recipients to inform planning for future investments and (2) incorporate the input and satisfaction from current service recipients to support providers' continuous learning and quality improvement. Q-Q Research administered a county-wide survey to capture the perspectives of a variety of parents and caregivers who have or may be interested in accessing TCT-funded programs and services in the three mentioned areas. In unison with this survey, QQRC is conducting a series of focus groups with community members (e.g., parents, youth, school administrators) in English, Haitian Creole, and Spanish to triangulate and enhance survey findings and center the voices of those directly impacted by TCT-funded supports.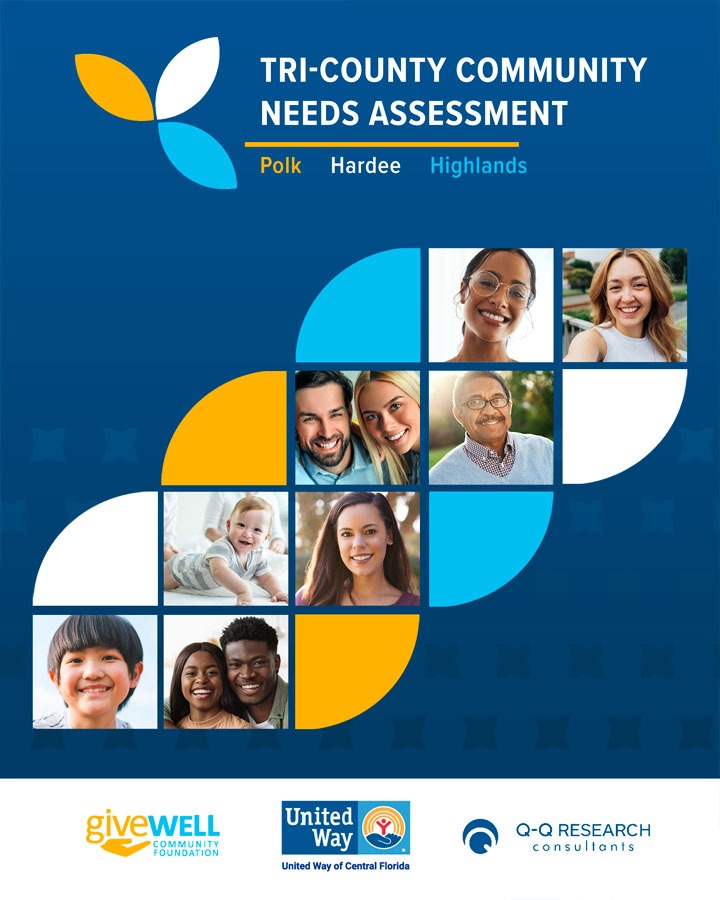 United Way of Central Florida & GiveWell Community Foundation: Tri-County Community Needs Assessment
Between 2021 and 2022, Q-Q Research conducted a tri-county community needs assessment funded by United Way of Central Florida (UWCF) and GiveWell Community Foundation (GWCF) to gather information on the needs of residents living in Polk, Hardee, and Highlands Counties the following domains: economic and employment opportunities, housing, education, food security, transportation/infrastructure, and quality of life. Applying our expertise in disparity and community engagement and research, Q-Q Research took a community-based participatory approach to engage the community and stakeholders via a community needs survey and focus groups. Relevant secondary and benchmarking data were analyzed to compare results and findings against other communities regionally and nationally. A PowerPoint was produced to serve as a model for post community presentations. The challenges faced by the counties' residents, 2) identify the counties' priorities, and 3) equip UWCF and GWCF with the necessary data to inform the development of strategies aimed to address the needs of child, youth, and adult residents.